Cooling Tower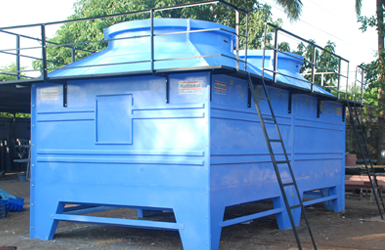 Compact Light - Weight Design Corrosion Resistant Weather - Proof Construction Ensure Long Lasting Life.
Technical Details
MODULAR CONSTRUCTION
NATIONAL COOLING TOWERS are of vertical induced draft counter flow design.
The tower ideal with regard space economy and cooling efficiency.
F. R. P. BODY
The body of the tower made of tough fibre glass reinforced plastic. It has sufficient structural strength to withstand high industrial vibrations and wind velocity.
It is resistant to local impacts and even if damage is sustained
local repairs can easily be done.
SPECIAL MOTORS (IP 55)
Continuous rating shock-proof totally enclosed type as per IP-55 and suitable for out door mounting.
FAN
The fan is directly driven and of axial flow type. The fan blades are of cast aluminum completely free from problem encountered with belt and gear drives.
DRIFT ELIMINATOR
It prevent spray entrainment reduces carryover losses of water.
The eliminator is of rigid P. V. C.
P. V. C. FILL
Corrosion resistant fill are of polyvinyl chloride in honey comb design.
FIXED SPRINKLER WITH SPRAY NOZZLES
Fixed sprinkler with spray nozzles for uniform distribution of water over the fill area. Nozzles are easily removable for cleaning through the inspection window.
INSPECTION WINDOW
Easy operation window is provided to inspect from where water distribution and fil can be observed clearly. Any repairing can be done through the window.
MOST ECONOMICAL
Small H.P. motors are used for the towers to make a great deal of difference in operating cost. aiming to deliver quality product at most economical price.
MAINTENANCE
Considerably reduced because fan is the only moving part of the cooling tower. Fixed distribution system instead of rotating sprinkler which eliminates all bearing and frictional problems.
SERVICE
We undertake service contracts for maintenance/repairs of cooling towers of any make.